Scents for Spring!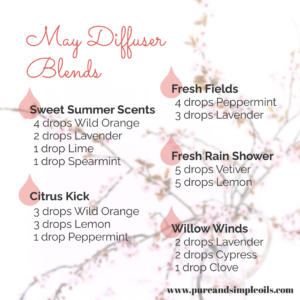 I love sharing fun diffuser blends! In honor of Spring and Mother's Day here are yummy blends to try out! Don't forget that any diffuser blend can be made into a rollerball blend for topical use. Simply use the same recommended doTERRA essential oil drops along with your favorite carrier oil and add to a 10mL size roller. My favorite carrier is doTERRA's Fractionated Coconut Oil of course! It is distilled which removes the fat and scent, is clear and greaseless. Click the link above to order yours today. (Back to Top)
---
PB Assist Jr., 25% off!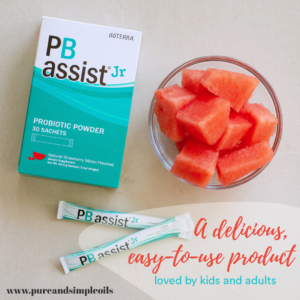 Promotion Details: This yummy strawberry flavored, power probiotic helps soothe tummy troubles and assists in digestive health. Perfect for those who cannot swallow supplements!

FDA disclaimer: "These statements have not been evaluated by the Food and Drug Administration. This product is not intended to diagnose, treat, cure, or prevent disease."  (Back to Top)
---
BOGO! Through May 27, 2023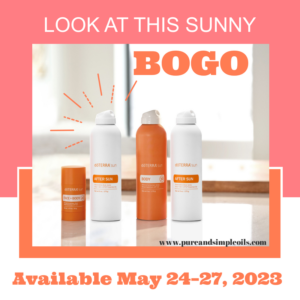 Get your doTERRA Sun Products! 
Who needs a little more  vitamin D as we head out of winter? Now you can get more safely with the best sunscreen available—doTERRA® sun! This product line is safe for the entire family, free of toxins such as parabens, phthalates, or synthetic fragrances. yay!
Buy doTERRA sun Body Spray and get doTERRA sun After Sun Spray for free!

Buy doTERRA sun Sunscreen Stick and get doTERRA sun After Sun Spray for free!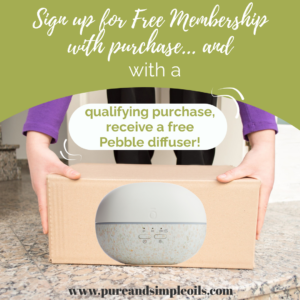 Many people like to take advantage of FREE membership. Simply place an order for one or more items! Qualifying orders also receive a FREE Pebble diffuser! 
Connect with me today for help! Or, if you don't need help and your order processes, I will reach out to you to welcome you as a new member of my oil family! New members have the opportunity to join my private Facebook community. (Back to Top)
---
Effective March 1, 2022 now offering free shipping for qualifying orders! What is a qualifying order? US loyalty and enrollment orders of 100 Point Value (PV) or higher. Ask me how to make this happen for you! (Back to Top)